Flexible fire protection coating - ProFlex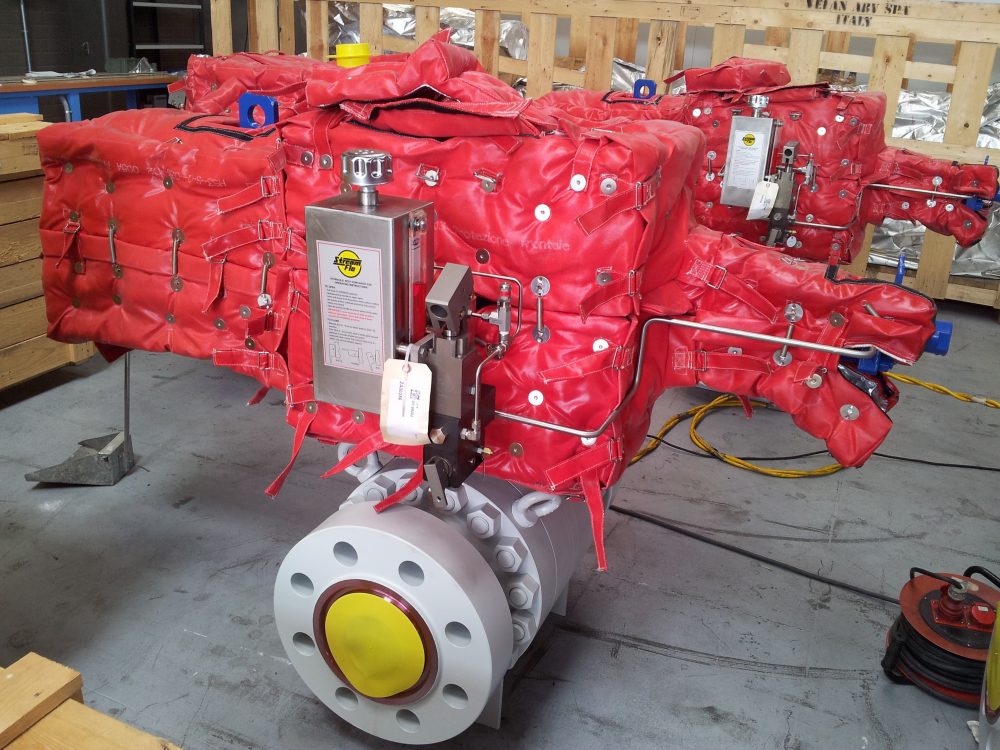 Composition
The product consists of preformed pads with layers of mineral fibers wrapped in special technical fabrics covered with a protective skin to ensure thermal insulation against high temperatures from hydrocarbon flames, as well as resistance to weather, chemicals and UV rays. Heat-resistant stainless steel straps, washers, brackets and springs are used to make the structure airtight to prevent the ingress of combustion products in the event of a fire. Custom molded to the protected equipment, ProFlex is suitable for applications where space and weight are limited and require fire protection systems that are closely matched to equipment size and dimensions.
Customizable features
ProFlex fire protection systems can be entirely designed on specific customer requirements and modeled based on plant drawings (or after a site inspection, when needed). Exit penetrations for position indicators, plug for electrical cables and pipes, adjustment levers for manually operated pumps, declutch devices, stems and hand-wheels. All those additional features can be supplied as recommended by API 2218 standards. Surface color can also be customized according to plant identification, policies and other accessories (i.e. heatproof grids to assist internal ventilation available upon request).
Certifications
Pool Fire 1100°C - Fire temperature resistance for at least 30 minutes, in accordance with UL 1709 and Hydrocarbon Fire Specifications

Jet Fire 1300 °C - Fire temperature resistance for at least 30 minutes, in accordance with OTI 95634 and ISO 22899-1 Specifications

Resistance to 2,9 barg blast generated overpressure

Applications
Being custom-shaped to the protected device, ProFlex is suitable for limited space and weight applications where fire protection systems are required to tightly match the equipment size and dimensions. The application of these products is specific for Electrical and pneumatic valves, actuators, Shutdown and regulation valves, Control panels, Pipe Work, Junction Box, Tanks, Control station.