Hybrid fire protection coating - ProBrid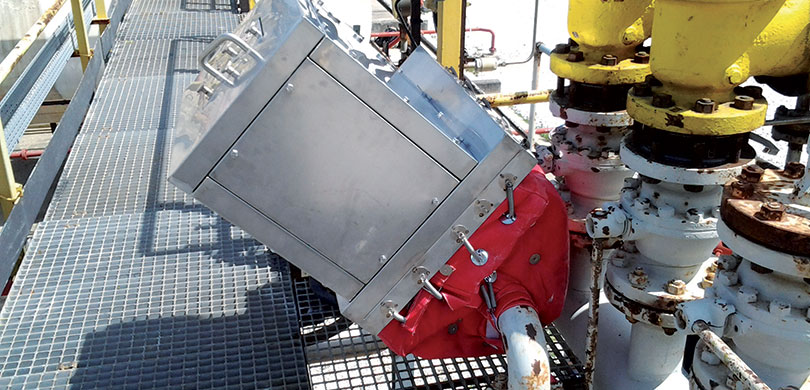 Composition
ProBrid is a hybrid solution combining a rigid and a jacket-type protection case. It is applied when both rounded and critical equipment occur, so a simple box or blanket would not provide the optimal fire protection (i.e. valve/actuator device). ProBrid systems aim to reduce the risk of damage in case of fire and blast overpressure, increasing the resistance time of protected devices and allowing prompt intervention to limit the spread of fire to other parts of the plant. A stainless-steel structure is coupled with pre-shaped blanket pads and wrapped into technical fabrics. The result is a special interface built on each specific application, to protect against flame flaring by hydrocarbon fire. Both structures are filled with layers of mineral fibers to reduce heat transfer to the protected equipment, while blanket pads are covered with protective materials to increase high temperature resistance. Heat-resistant sealing are used to make the structure airtight and prevent inflow of combustion products in case of fire. ProBrid is suitable for applications where highly customized shapes are required to exploit the maximum benefit/cost ratio in limited space and harsh environment.
Customizable features
The added value of ProBrid resides in its possibilities of customization. This product has been conceived not only to support the technical and engineering requirements, but also to offer a completely tailor-made product able to put in a safety condition even the most difficult part of the plant. For its realization the technical department strongly supports the customer to finalize a product that meeting the technical, qualitative and economic requirements. The grade of customization entails almost all aspects, among these: Fabric color customizable according to plant identification policies, Heatproof grids to assist internal ventilation, Electric and pneumatic cabling reinforced with threaded casings in order to guarantee the optimal thermal insulation, Hinged inspection doors to allow operations of control and maintenance on the protected component, Captive screws to link panels to avoid loss during maintenance.
The application of the ProBrid comes from a need of dimensions and spaces. ProBrid can also be installed on the following items: Valves, Actuators.
For particular requests, Prometheus also evaluate the application on other devices.